Good Monday morning! It's a new, fresh, shiny week! As you read this, I am in a car, traveling 8 hours to a lake in Wisconsin, with a Mr. who is not a morning person, and a doggie who gets car sick after 5 minutes. Yeahhhhh.... if you'd like to send up a quick prayer for me, that'd be greattttt.
I'm so excited to unplug and relax in nature this week. I will do a little fishing, but not much. I just want to soak it all in. However, I have a confession, I did smuggle my laptop on the trip. Shhhhhh, the Mr. won't know until we are already there! Ha! I will relax, but when I have an idea for a blog post, or a craft project, if I don't write it down, it's lost forever!
Anyway, I normally do Weekly Wishes on Mondays, but this week, I won't have any other than relaxing. So, when I found the sweet
Jordyn from She Who Fears

,
I knew I had to participate in her link up! I am a few days late, but that's okay. Also, I have no idea to actually schedule this post to link up when it publishes, so I will have to wait until I get back, but that's okay, too!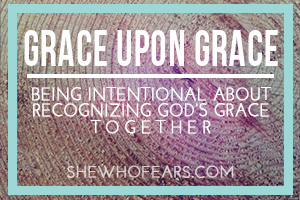 This is how it works- From Jordyn's site-
"
In other news, it's Monday again, and not just any Monday--but
Grace Upon Grace Monday
where I share with you how Jesus is exhibiting His grace in my life (which is also like a mini update for you all) and then I give you the opportunity to link up and do the same! My heart behind this is that we would become more intentional in recognizing God's work in our lives--even when everything's all topsy turvy--and that we would grow in fellowship with one another as we visit new blogs and comment, encourage, and love on one another! "
Sounds great right? Sort of counting blessings on a Monday, which I'm sure everyone needs a little extra encouragement in the beginning of the week! The catch is, you have to link 4 points, or blessings. AND visit other's blogs to leave encouragement. That's pretty simple!

So, here we go...
+
one
Going on this fishing trip is exactly what I need right now. I was raised primarily in the country, where it took 30 minutes to get to the nearest Wal-Mart. Yep, that far out. While I love having any and every store I can think of, literally 5 minutes down the road, I get restless being out of nature after a while. It feels like it's a bit harder to hold onto my joy everyday when I feel cooped up. I'm so thankful we get to go to the middle of nowhere so I can recharge my batteries.
+two THE LIBRARY! This place is amazing. I love the fact that it's absolutely free, (except when you loose a book, guilty right here) and that you can even download music & ebooks, and borrow a nook! Who does that?! Love it. Just being in there and strolling around is soul-soothing to me. I'm so happy God gave me a mind that craves the written word, and that I live in a country where we can have such free programs available to us like libraries.
+three I did email my church, I will miss the next baptism while on the fishing trip. :( They don't know when the next class will be, but I plan on staying on top of this! I guess it will give me a bit more time to really get ready for it. Trusting in God for the right timing at this point.
+four Speaking of class, I sent away my application for the Christian university! I'm so nervous and excited! I have absolutely no idea if I will ever get a job using the degree (when I finish) but I feel the need to learn everything about the bible and what better way than to get into a university and be tested on it? The Mr. is always saying if you really want to do something, put money behind it and it will push you to go for it. So that's what I'm doing! I'm really excited, no, like really excited for this!
+five I'll throw in an additional point just because I'm so darn excited for this one. One of my dreams, and mind you, I'm a huge dreamer, is to own about 40 acres of land in Colorado and build a small house. Originally, we wanted log cabin, those are quite expensive and I didn't want us to have to work until we're 70 just to pay it off. Looking more into eco-friendly options, I discovered the container houses. It's worth a Google, go see them! Well, the Mr. isn't keen on that idea so then he said watch the show called Tiny House Nation. Y'all, I'm HOOKED! I don't know if we will go that tiny, but at least under 1000sqft would be amazing! Can you imagine building your home where every inch is multi-functional? I just, I can't even deal right now! I'm just going to get one of my journals and start drawing house plans and projects! Ekk! The Mr. and I just want a simple sort of life. One where we are in fresh air, not tied to technology and "stuff".
And there you have it, my first Grace Upon Grace link up!
What do you think, is the

Tiny House Movement

genius or too much hassle? Comment below!