Y'all, I've been on a reading bender! I promise to post different content as soon as I can get the posts altogether. It seems since moving, there is always a project to do in this house. When I get downtime, all I feel like doing is reading instead of blogging! Hey, life happens. Sometimes we push other things to the back burner, and I'm not especially sorry about that. I never want my social media/internet presence to come in between me and real life. Can I get an amen on that?
And now, a feast for your bookworm eyes....
From Moody Publishers-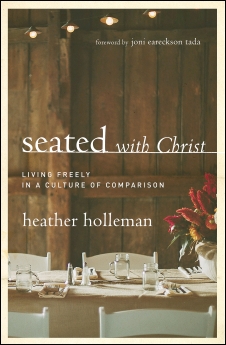 Seated with Christ by Heather Holleman
Heather Holleman gets to the root of the self-absorbed culture these days and shows you a way out using scripture. This book came at a great time for me. While blogging, or even while being on different social media accounts, comparison is a thief that is ever present, robbing you of joy. I'm so happy to stumble across this book. I'm constantly searching for chances to unplug from everything, and this book guides you to do that amongst it all. Highly recommend for everyone.
10 Commandments of Marriage by
Ed Young
Dr. Ed Young tackles the hard subjects that he's heard for years of counseling folks. That alone makes me want to read the book! But then he adds every "Commandment" with a bit of humor and I love books that preach, teach, and make you giggle every now and then. I highlighted this book all over, knowing that this could change my marriage and make it even more solid than ever! And when you're about to dive into Foster care/adoption, who doesn't want to solidify their marriage more? I would recommend this book to newlyweds, engaged couples, well... to everyone really!
Punderdome game from Blogging for Books
This game sounded so fun that I just had to try it! It's a simple setup and instructions. At first, it may take your brain a few rounds to get into that pun mindset, but after that, it's fun! Great for a multitude of people, and lots of fun!
December Caravan by Rebecca Vandemark
Rebecca Vandemark takes you inside her life, one that has more struggle in a short amount of time than most will ever have in their lifetime. She writes beautifully, and truly paints you a picture of her hardships and faith. One of the things I admire so much from this author is her faith. She always leans on faith and that in itself is a beautiful thing to behold. I can't wait to see what else Rebecca writes, knowing it will be just as beautiful as this book.
One of the Few: A Marine Fighter Pilot's Reconnaissance of the Christian Worldview by Jason B. Ladd
This book touched my heart! I can only imagine what a Christian soldier goes through when vowing to protect our nation, but may have to be or do something his or her faith condemns. Jason B. Ladd gives you insight to this. He tells you what helps him during a spiritual attack, and I plan on taking these tactics with me in everyday life! A solid book for anyone, but I would highly recommend for anyone in the service or about to go in the service, as well as a parent of a soldier.
From BookLookBloggers-
For Better or For Kids by Patrick and Ruth Schwenk
While waiting for a child for adoption, I want to solidify our marriage, and jumped at the chance to read this book! I've always heard the expression, "Children will come and then move away, but your spouse is there through it all," which made me realize that I didn't want my marriage to revolve around a child, but my spouse. This book addresses just that! It helps you stay committed to your partner or spouse even when mother or fatherhood wears you out. I love that she includes conversation starters for you and your spouse. It will help tons when you're worn out from the children! I would recommend this book to every couple who have or will have children.
Unashamed by Christine Caine
This was my first time reading Christine Caine, and I love her! I love it when an author is completely honest with the reader. Christine Caine lets us in to help us go from shame filled to shame-free. She doesn't just do it on her own word, but she guides you to the Bible, to God's words. Her writing is superb and I can't wait to seek out more of her work and speaking engagements! I would recommend this to every single person I know.
That's all, folks! I hope you've found a new book to read during this post!
What are y'all currently reading? Comment below! I'm always itching for my next book!
These are the books I'm reading to "Try" to prep me for motherhood via foster to adoption. Since I don't know boy or girl, or even age, I can't know exactly what to prepare for! It's open season here, folks!
So, I just thought I'd read everything I could get my book worm hands on. This may be a couple of installments, but here are the first ones for now...
Bringing up Bebe by Pamela Druckerman
This book is amazing! It's so interesting to see what the American culture is becoming. In my opinion, it isn't looking pretty! When going through the Foster Care classes, you have to come up with a loose parenting plan... how you will discipline, punish, etc. Since we won't know age/sex of the placement we will get, we decided to come up with a VERY broad plan. We knew we didn't want to raise an entitled child. Granted, I think each generation is spoiled a little more than the previous, but lately, it seems to have jumped about 10 generations with the spoiledness of kids I see in the stores!
The book paints a picture of how American kids compared to other kids around the world and it's mind blowing! I'm determined to raise a well-rounded kid, even if the first precious years were hard for them... I think I can, I think I can!
Next up is Keeping Your Kids on God's Side by
J. Warner Wallace
.
Great book! I'm highlight up a storm in it. I know that the children we may have, (even if only for a short time) may not have heard about Jesus or God or even been inside of a church previously. Maybe, we will be starting from scratch in their faith. I know we will have to answer the basic questions about God, which I'm prepared for. What I'm not prepared for, however, is the really hard questions, such as, "If God is good, why do bad things happen?" Yeah, those gut-punching questions where you have absolutely no idea where to start explaining! This book will give you the answers that they will understand. I'm pretty sure I'll be pulling this book out and having it ready for each of the God discussions!
Beat Sugar Addiction Now for Kids by Jacob Teitelbaum & Deborah Kennedy
Again, we won't know where these children are in terms of age, but I'm pretty sure no one was concerned with their sugar intake. Along with the majority of America, folks just give kids the "Kiddie" types of cereals and snacks.
After watching a documentary on Netflix called Fed Up, I've cut out 95% of my sugar intake. Please, go watch it, it will blow your mind! Besides special occasions, I try to steer clear of sugar by not buying it.
Now, picture in your mind, we get a child where nutrition wasn't top priority, and their daily sugar intake is probably through the roof. And now picture how many big people emotions they will be going through in the upcoming weeks. Finally, add me trying to get them off a sugar addiction.... yeah, it's not looking pretty!
I pray that this book will help us transition them off sugar easily.
20 Teachable Virtues by Barbara C. Unell and Jerry L. Wyckoff
Practical Ways to Pass on Lessons of Virtue and Character to Your Children book? Yes, please! The virtues they present in this book are so valuable. Every child should have an opportunity to learn these and apply them in their lives. Unfortunately, sometimes a child may not have had that opportunity to learn anything in a rough home life. You bet I will try my hardest to teach them everything I can for the time I have them.
All of these books I have purchased with my own money, (they're not a review for a publisher) and I plan on keeping & referring to them often throughout the years!
Do you have any other parenting books that made a difference in your child's life? Comment below! I need all the advise I can get!