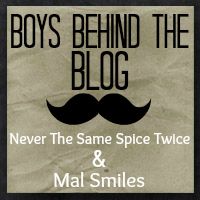 Join us on the third Thursday of every month for the Boys Behind the Blog link-up!
The Boys Behind the Blog is a monthly linkup by

Stephanie

&

Mal

, featuring your husband/fiancé/boyfriend/best guy friend, whoever that's a guy! This link up was created to brag about our men and get them more involved in our blogs.
Here's how it works: we post the questions on the 1st Thursday of the month, you ask your man to answer 5 easy questions and then link up with us on the 3rd Thursday of the month.
I came across this link up and thought it was just fabulous! We don't really hear much from the guys in our lives, so this is a good way to get them involved without pulling them kicking and screaming! :)

OK, so here are this months questions...
1. If you were an animal, what animal would you be?
"I would be an eagle, I think- or some kind of dolphin."
2. What is your favorite meal?
"Favorite meal is mashed potatoes and gravy, corn, and a great steak."
3. Do you use any forms of Social Media? What is your favorite?
"I use Facebook."
4. Beer, wine, liquor, other, or none of the above?
"Favorite beer is either Sam Adams light or New Castle."
5. Complete the sentence: "Never have I ever..."
"Never have I ever shot someone."