Happy Friday! I hope everyone is in a great mood and ready for a fun filled weekend!
Today, as most Fridays, I join with the talented
Aimee from This Darling Day blog
to show a bit of beauty in everyday life. This photo was originally taken to show what colors I used for a painting, so I could use the same the next day. Then I realized, it is kind of beautiful in an unexpected way! And, if you'll notice, I am one of the artists that gets paint everywhere when working! :)
This weekend, I plan on trying to blog my little heart out and finally knock out a week or so of our European Tour ahemmm...from last year. It's been a long road, but I'll get to it, I promise! Editing the photos takes forever, but somehow, our hard drive mixed up some of the file folders. SO I have photos of Vienna in Venice's folder, and so on. It becomes difficult when it all looks like old buildings! Wish me luck on that!
If you'd like to share a bit of your beauty this week, please go to This Darling Day, or click on the image below and link up with us!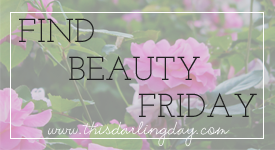 Oh, and one more thing! Due to viewer requests, I've updated my Passionfruit Ads shop for you to be able to do free swaps again! I would still love if you choose the Mon Cher spot and donated money to the Wounded Warriors, but if you'd like to dabble in sponsorship for free, just submit your ad! Rules and regs are on there, go check it out! I've only put in for 10 spots, so get yours now!
Anyone have big weekend plans? Leave a comment below!