I don't know about y'all, but for us, the go-to date night is dinner and a movie. 99% of the time, that's what we do. It's a great thing we love movies! Even then, sometimes I crave a little bit of adventure. And since we have our beloved Ginny, and have to plan for her potty breaks, we need to keep the adventures local! Not to mention the time it takes to research places to see if they're date night worthy.
My dear friend Charlene, who blogs over at Enduring All Things introduced me to this site called The Dating Divas. Y'all, at first I was like, "Who's going to print out ALLLLLL that material?" or "No way is Chris going to go along with this. He will think it's too
cheesy
!"
Yet, the more I looked into the site, the more things started to click.
MAYBE
he would go along with it to be supportive to something I wanted to do and
MAYBE
we would end up having a little fun in the process
! And then... I saw this....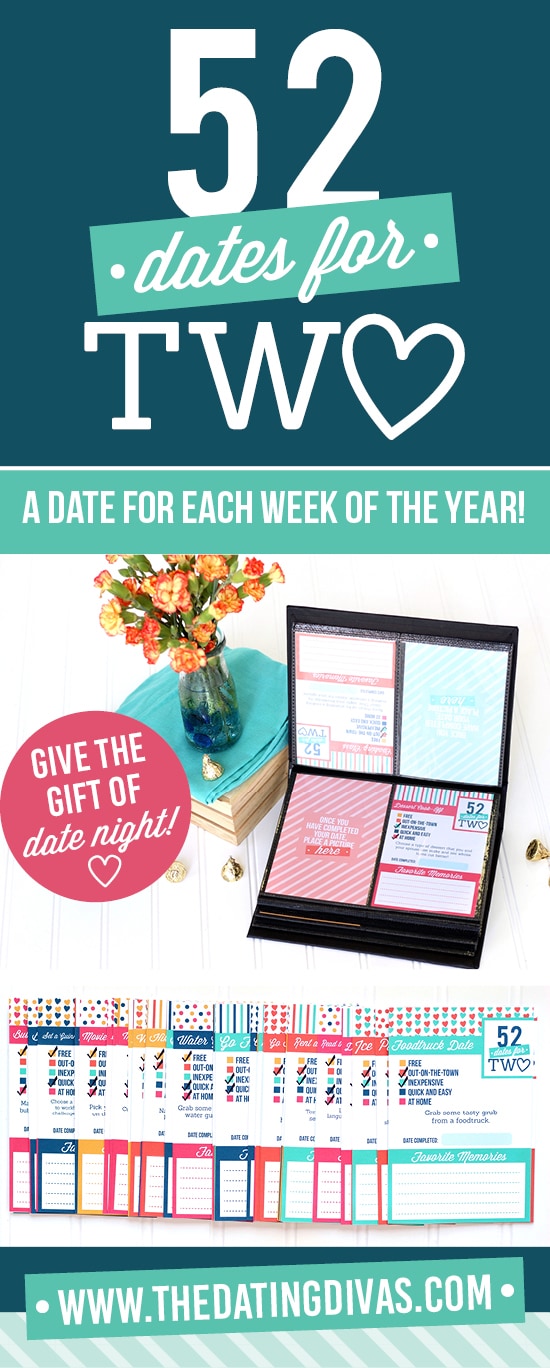 I thought about it for a while, but decided to try it! I mean, it's only about $8 and what did I have to lose?
With a chronic illness, you can't always plan things a week or even days ahead of time. That is our number one problem when it comes to date nights. When I saw this photo (below) I thought, Sold! It has different
categories
of dates- Free, Out on the town, inexpensive, quick and easy, at home. HELLLOOOOOO! Our number one problem solved! I can flip through & find what we need that day! If it's a bad pain day & it needs to be a fast date- I'll look for the Quick and Easy cards. Or, if I don't have extra energy to get date night ready, and go somewhere, I'll flip to the at home date cards.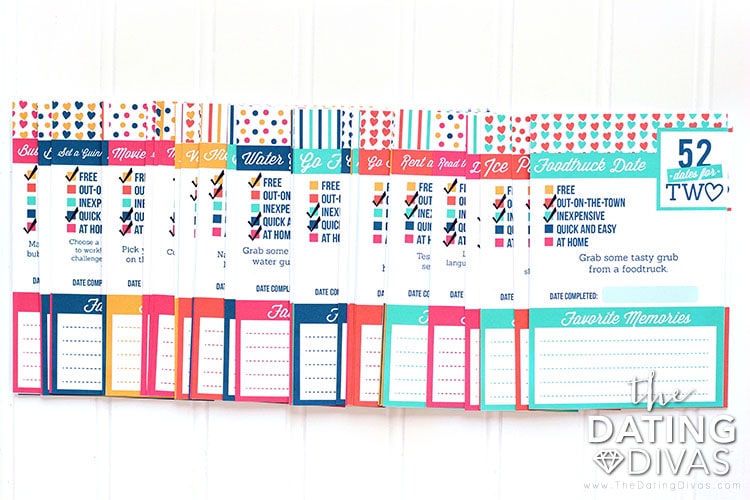 I'm so happy that The Dating Divas makes it so simple for you! When they send the digital file, they include instructions and tips. They suggest that you put them in a photo album. While you're on the date, you can snap a photo of you guys & slip it into the slot next to the date card! How adorable is that???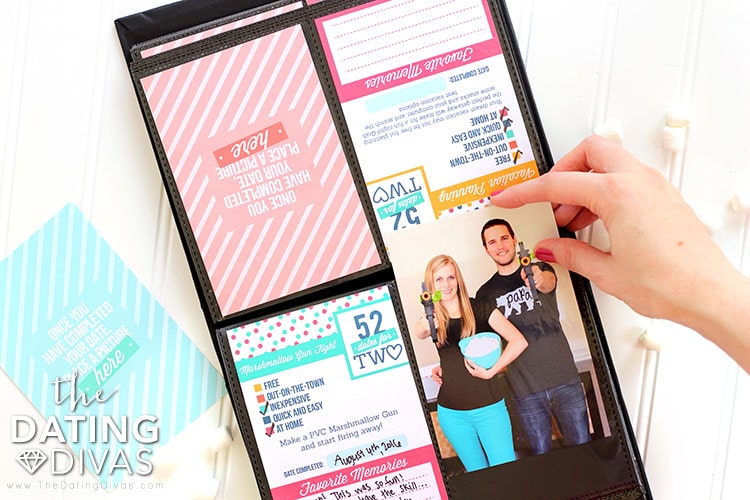 So cute! We've done a couple of these and love it! What I love the most is that you can flip through with your Sweetie trying to find a good date night suggestion. Trying to decide which one to do is a sure fire way to get your mind out of work/school/chore mode and into date night mode! Which I love!
One of my goals this year was to be more intentional with screen-less time with the Mr., so this makes it sooooo easy! And let's face it, if you can make things easier in life, then it's worth it! Especially since it's a budget friendly way to invest in your marriage. I'm starting to realize that if you're being idle in marriage, and not being intentional, then it's tough to grow closer. You may even grow further and further apart! Not what I want in the least little bit!
And for my friends, don't
be
surprised
if you receive 52 Dates for Two as a gift!
Posts on this blog may contain affiliate links. If you click on a link and make a purchase, I might get a tiny percentage of the purchase price, but it doesn't cost you a thing. All opinions are my own.